The Government Office for Science (GOS) is recruiting 20 graduate interns to work on a wide range of important high-profile science and policy issues.
GOS advises the Prime Minister and members of the Cabinet, to ensure that government policies and decisions are informed by the best scientific evidence and strategic long-term thinking.
In the first of our three part series, 2018 graduate intern Kate Farmer talks about her experience at GOS.
Kate Farmer, Science Capability
I started working for GOS in October 2018. I had just completed a master's in environmental policy and management in 2017, following a history degree. I had a very clear aim to join the Civil Service; I chose GOS because of its broad cross-departmental remit, exposing me to a wide range of scientific challenges in government!
I have had two roles at GOS. Firstly, I worked on projects tackling complex environmental issues and raising their profile to policymakers (i.e. indoor air pollution). I was given a high degree of ownership for my work and was able to advise the Government Chief Scientific Adviser on Agri-Tech, an area which I am particularly passionate about. A particular highlight was all the interesting visits and conferences, including a rewilded farm (Knepp Farm) and many vertical farms!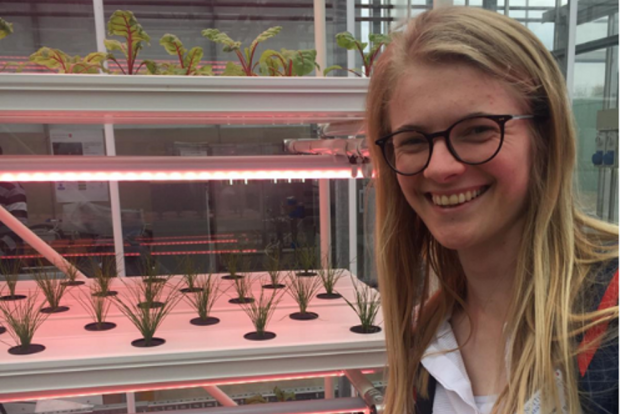 I now work on a change programme to improve the visibility of science in government. I have really enjoyed the increased stakeholder engagement in this role, where I have been supporting senior officials to drive widespread behavioural changes. A particular highlight of this is sitting in on very senior-level meetings to see how decisions are made, including all the Chief Scientific Advisers in departments.
To leave you with a final highlight, I have found GOS to be a very welcoming environment. At all levels, colleagues are happy to discuss interesting scientific issues and value your input. If you choose, you could get involved with a variety of projects across the organisation, with the opportunity to make an impact that is often rare in more junior roles.
Apply now
Applications for the Government Ofiice for Science graduate internship scheme are now open.
The internship provides an exciting opportunity to support the work of GOS in delivering evidence to inform policy making across Government. Areas where vacancies exist include:
• Conducting horizon scanning exercises to understand the impact of disruptive and innovative technologies on government and the UK.
• Supporting the Prime Minister's Council for Science and Technology, the government's network of Chief Scientific Advisers, and the wider science and engineering community through the Government Science and Engineering Profession.
•  Supporting a rolling programme of projects on a range of issues including social care, health, local economies, air quality, emerging technologies and science and innovation policy.
For further information and to apply, visit the Civil Service Jobs website.
Reference: 1636283
Closing date: Monday 1st July 2019
---
Sign up to the GSE blog to receive an email when a new blog is published and keep up to date with the work of the GSE profession.