The GSE Profession strives to inspire leaders, nurture talent and celebrate diversity. That's why we offer a range of products, networking and signposting for your talent and leadership development and career progression. 

GSE Talent Strategy
The Government Science and Engineering (GSE) Profession is committed to developing its members so that they can make a real difference by embedding science and engineering in government and placing it at the heart of government decision making. The Talent Strategy and Action Plan is one of six important themes of the GSE Profession Strategy 2021.
Science and Engineering Fast Stream
The government needs a pipeline of talented people, with diverse skills, scientists and engineers who are creative, versatile, and numerate to deliver on exciting work that will make a difference to the lives of people across the UK. By joining the Science and Engineering Fast Stream (SEFS), candidates will become part of a modern, vibrant, and active community of science and engineering professionals, who have one goal in common: to give back to the communities they serve.
Find out more about the Civil Service Fast Stream here: Civil Service Fast Stream. Find out more about the Science and Engineering Fast Stream here: Science and Engineering Fast Stream.
S&T Network
The Fast Stream Science and Technology (S&T) Network is a new science and technology-based community run by Fast Streamers, for Fast Streamers. A support network to all Fast Streamers (e.g., generalists) without a technical background but are in STEM based job roles.  The S&T Network provides:
A platform to professionally network with STEM enthusiasts (e.g. at events and seminars)
A source of additional learning and development opportunities.
An outreach platform offering volunteering opportunities with schools and universities.
A social hub that is inclusive and enjoyable.
A champion of science throughout government, the Fast Stream and the wider Civil Service.
For more information, you can join the monthly newsletter mailing list and can visit the Fast Stream Intranet page.
STEM Outreach
The STEM Outreach Programme is run by Fast Streamers.  The programme will feature activities aimed to promote STEM such as:
STEM Challenge
The GSE Profession, in collaboration with Science and Engineering Fast Streamers and STEM ambassadors, launch an annual STEM Challenge for secondary school students. The challenge is focused on sustainability, and within that theme students will explore their vision of a day in 2050.
The team continue to work with STEM Ambassadors to select schools in order to promote social mobility and inclusivity in STEM. For further information please contact - stemchallenge@faststream.civilservice.gov.uk.
Science and Technology Network Pen Pals
University students are paired with a current Fast Stream trainee who has experience of working in science and technology within the Civil Service. Students will be invited to ask their Fast Stream pen pal about the postings they've had, their experiences relating to science and technology, the application process and any general questions about the Fast Stream.
S&T Presentation and Q&A Session
Students are invited to a virtual presentation and Q&A session, lasting around 30 mins in total. The presentation provides a general introduction to the Fast Stream and more specific information about science and technology and the Science and Engineering scheme. The presenters and Q&A panel will be current Fast Stream Trainees or alumni with experience of working in science and technology within the Civil Service. For further information please email scienceandtechnologynetwork@faststream.civilservice.gov.uk.
SEFS Alumni Network
The Government Science and Engineering Profession have established a Science and Engineering Fast Stream (SEFS) Alumni network that will connect a community of professionals with shared experience. The objective of the network is to;
Develop confident science and engineering leaders that use their expertise to influence policy making decisions and lead others
Engage our SEFS Alumni and stakeholders to better understand their leadership needs to develop meaningful careers at all stages of their career journey
Retain our graduated SEFS through offering a comprehensive GSE Talent offer and improve how we track and support their career pathways
For further information please contact –gse@go-science.gov.uk.
SEFS Learning & Development Offer
As part of the Science and Engineering Fast Stream (SEFS) Learning and Development offer, we provide multiple networking and learning and development opportunities over the 3-year period on the scheme such as -
Futures Toolkit Training Programme
Evidence Synthesis Workshop
Centre for Science and Policy Professional Development Workshop
Government Chief Scientific Adviser networking
SEFS Away Days and Induction events
The Royal Society Fellowship Networking event
Monthly Chief Scientific Adviser (CSA) Seminars
Science and Engineering - Quality Assuring of S&E Roles
The Science and Engineering Fast Stream (SEFS) is always looking for volunteers from the GSE profession to quality assure Science and Engineering Fast Stream roles. Every year, SEFS commissions over 100 job descriptions for S&E roles from across government, ranging from Environmental Policy Leads to Defence Technology Project Managers and CSA Private Office. To ensure that these roles meet the high standards of the GSE profession, we need experienced S&E professionals to assess a selection of these roles against two criteria:
Which grades they are suitable for
How well it relates to the GSE Technical Skills framework
The Civil Service Fast Stream has been rated as the top Public Sector Graduate Employer for the last two years and SEFS now offers places to over 40 graduates per year, making it an important, growing and increasingly diverse provider of GSE leadership talent. This is an exciting opportunity to find out more about the scheme and the work we do.
Direct Appointment Scheme
The Direct Appointment Scheme (DAS) is an initiative that recruits high capability individuals who demonstrated potential during the rigorous Fast Stream assessment process. As part of the scheme, successful candidates will be matched to a position in government, some with a substantial policy element, others in a more technical role. GSE Profession supports their development in applying their specialist skills and knowledge to make sure that government has access to the best science and engineering advice to support policy and decision-making.

GSE Leadership Values
The GSE Leadership Values have been developed in collaboration with GSE members, GSE leaders and wider stakeholders to provide a framework of the key values and standards for leaders in science and engineering.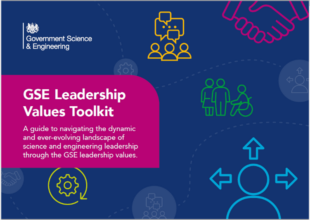 The purpose of these values is to support GSE members at any grade to develop and grow professionally to become inspiring, confident and empowering GSE leaders, and complements the Civil Service Leadership Statement. More information on how to use the GSE Leadership Values is available for members in the GSE Leadership Values Toolkit. In this Toolkit, you will find the expected standards, self-assessment questions and different strategies to help build your GSE Leadership skills.
Leadership Development Coaching and Mentoring
To support leadership development and promote a mentoring and coaching culture within government, GSE profession runs it's 'Empowering Leadership' mentoring programme each year. GSE members are mentored over 6 months by other members to build their skills in empowering their teams and building high performance.
A separate coaching offer is also available for GSE leaders that includes ILM accredited training as well as individual coaching. In this way the profession builds our skills and future capacity to coach and mentor other profession members.
Career pathways
GSE offers assistance for career progression to be discussed with your manager or mentor through the GSE Career Framework and the GSE Skills Assessment Tool.
Apprenticeships
Apprenticeships provide a great opportunity for career development and nurturing all talent due to its blend of hands-on work experience and academic development.
There are over 40 STEM apprenticeships available in Civil Service with over 1300 starting their apprenticeship journeys since 2016 (as of December 2022). GSE works closely with departments to regularly promote these through our monthly members newsletter, case studies and other channels to increase science and engineering capability in government.
Leadership Development Schemes
GSE profession encourage and assists profession members to apply for development schemes offered for all Civil Servants;
GSE are building new leadership development opportunities – subscribe to the GSE Profession to find out more through the GSE newsletter and sign-up for the GSE Knowledge Hub.
Please contact us at gse@go-science.gov.uk for more information about each of the offers above.
Explore other areas of the GSE Profession's Offer