2020 Year of Inclusion: Insight from Huma Baig -  Government Science and Engineering Diversity Intern.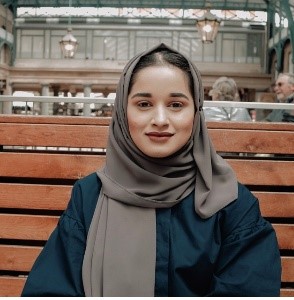 Hi everyone, my name is Huma and I am a Diversity Intern working in Public Health England (PHE). When I was first given the opportunity to take my placement at PHE, I was rather sceptical and anxious as I had never worked in health before and my background was certainly not related to this either. I had only just graduated a month before and this would be my first experience of what life would be like away from academia. I was nervous and didn't know what was expected of me.
However, upon my arrival I was welcomed with open arms by my manager (Vicki Chalker) and immediately immersed within her workload as if I was part of the team already. What little experience I had didn't stop me from feeling involved, appreciated and included. To me this is inclusion. When most people think of diversity and inclusion, they automatically use the terms gender and ethnicity. Although I am female and from a minority ethnic background, inclusivity goes far beyond my inherent characteristics. Feeling welcomed, valued and given the power to express my own opinions is the basis of a truly inclusive environment. Being encouraged to speak my mind and feeling comfortable enough to engage in conversation despite my lack of experience and knowledge is what I appreciate most about my post here. All of these seemingly little things make the biggest and best difference to having a happy and healthy working life.
The Diversity Internship Scheme is a great way to give young people from under-represented backgrounds like myself the opportunity to get involved in areas of government, work on exciting projects and make a real positive difference in society. The commitment to empowering a workforce from all backgrounds, respecting our needs and making room for a flexible working environment are important elements which have increased my ambition for pursuing a career with the Civil Service.
There are many areas of Government Science and Engineering working hard to improve diversity and equity.
Project SEARCH gives real-world work experience for young people with learning disabilities and autism, assisting them with work placed skills to enable joining the workforce longer term. The PHE senior leaders' team and people directorate are working to develop improvements on equity by increased understanding through active listening to BAME colleagues.
PHE staff networks have worked endlessly to support inclusion within government by creating a supportive space for staff to share and contribute to key events such as Black History Month and Pride.
The Enable Network works to recognise colleagues affected by disabilities or long-term medical conditions. Last year they successfully linked with the Science Hub Programme to ensure that those with impairments, disabilities and long-term conditions were included in the design of the Harlow site.  Likewise, the Christian network engaged in an initiative with other faith networks to support interfaith week. Each network has created a business plan which outline their plans for achievement to create an inclusive and diverse working environment.
Whilst PHE is engaging in the right direction towards promoting diversity and inclusion, the severe impact on diverse groups following COVID has highlighted that there is still much to be done. So, let's continue to promote equal opportunities for all, celebrate our colleagues and most importantly support each other in achieving the most diverse and inclusive institution.  
Huma Baig.
---
Quotes from colleagues:
"The views of new recruits to PHE always provides a fresh pair of eyes on our organisation.  It is therefore immensely uplifting to read Huma's blog.  We learn from positive news. On behalf of Samia, the BAME network and all of us, we proudly thank Huma for her insights".
 Paul Johnstone, (BAME Executive Champion)
---
"Inclusion for me conjures up many images, thoughts and feelings that relate to a sense of 'belonging'. I believe it is an integral part of any inclusive experience."
Nuzhat Ali (Muslim Network)
---
"As Huma so effectively says, inclusion is the key to making someone feel comfortable, to helping them be effective and to their wellbeing. Sometimes it is said that there are three reasons to act on diversity and inclusion initiatives: Legal, Moral and the Business Case. The first two are important, but it is the third that I find most exciting. Whatever the different characteristics between people, whether visible or not, whether protected or not, different lived experiences and perspectives lead to greater collective perception, innovation and creativity when inclusively brought together. In science and engineering that means better research, results and solutions. At the Intellectual Property Office we have worked hard to support and listen to staff networks, join with and learn from the Government Science and Engineering and Intellectual Property Professions and to work with organisations like IP Inclusive and Business In The Community to build an inclusive culture where everyone can be themselves and make a contribution that counts. We look forward to continuing to embed inclusion within the GSE Profession to better serve society and deliver better outcomes."
Ben Buchanan (On behalf of the Intellectual Property office)
---
Civil Service Year of Inclusion 2020 in the Scottish Government
"We have set ambitious diversity targets as we aim to become an organisation that truly reflects the population it serves and promotes the benefits that this brings. Central to this is a work culture that is both open and fair enabling all staff to contribute and thrive, supported by a range of staff networks who engage actively with HR and senior management of their behalf. This year the Scottish Government has created 30 paid disability interns"
David Kenyon (On behalf of the Scottish Government)
---
At the Defence Science and Technology Laboratory (DSTL), we strive to ensure everyone feels like they belong and can fulfil their true potential. We believe amazing things happen when we work together well For National Inclusion Week we asked our employees what diversity and inclusion means to them and throughout the week we will be exploring different ideas such as belonging, celebrating us and showcasing our employee support networks. Several employees have created videos sharing their experiences that will be shown throughout the week and we will be encouraging everyone to take part in open conversations around a range of different topics such as how we can all reach out to include and working from home. By the end of the week we hope to be able to reflect on where Dstl is doing well and the areas of inclusion we need to focus on the most to make Dstl a great place to work.
---
Sign up to the GSE blog to receive an email when a new blog is published and keep up to date with the work of the GSE profession.