To celebrate International Women's Day on the 8th of March, we look back on notable achievements and expert discussions flagged at this year's
International Day of Women and Girls in Science
Assembly (11th February), which was attended by over 400 members of the GSE.
The event was introduced by Sir Patrick Vallance, Head of the GSE, who emphasised that being diverse and inclusive is fundamental to all our success.
Prof Sharon Peacock, Chair of the COVID-19 Genomics UK Consortium, told us the inspiring story of her life and career so far as a woman in STEM. Sharon spoke about the importance to career progression of believing in yourself, acts of kindness and stepping out of your comfort zone. She also emphasised that if we want to see more women and girls entering, and thriving in STEM, then we need to nurture talent in the early years, providing children and young people with role models and encouragement that they can do anything.
Only 31% of the GSE profession are female, much lower than the Civil Service average of 54% (source: Civil Service Workforce Diversity Data 2019). We must do more to address this. GSE is partnering with the Cross-Government Gender Network (CGGN), bringing together heads of women's networks from across the GSE to share ideas and best practise for promoting gender equality.
At the event GSE also launched GSE Connect, a pilot peer-to-peer mentoring scheme for women.
A key theme of the event was how we can all promote gender equality by being visible as women in STEM, or in our support for women in STEM, to be role models and inspire others. We heard about the WISE Campaign's 1 of the Million initiative, which celebrates that there are now more than one million women in the UK's STEM workforce. You can find out more and add your own photo or story here. Anyone in the GSE profession can access the WISE online members' resources, just register here using your work email address.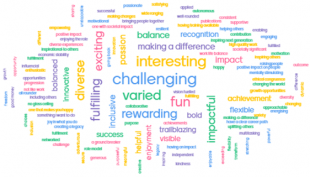 The word-cloud shows event attendees' answers to, 'What does an inspiring career look like?' During the event there was a great response to finding ways to make every day inspiring. As result, we are delighted to announce a regular spot on the GSE Monthly Newsletter, where we will explore opportunities you can take to be a role model every single day.  Discover ways to empower yourself as well as inspiring others in your daily life!
You can find a recording of the event here.
Sign up to the GSE blog to receive an email when a new blog is published and keep up to date with the work of the GSE profession.