Guest piece written by Captain Andy Donaldson, Team Leader for the Defence Engineering Head of Profession.
Did you know that there is a secret society of engineers working across Defence to make your working lives better?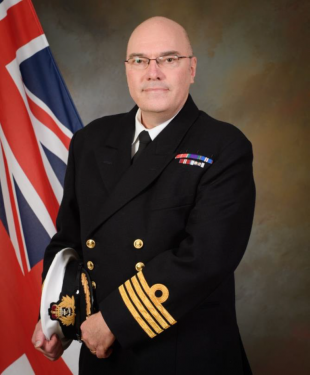 Now that I have your attention, I'll come clean and say that it's more of a network than a society and it's not officially secret, but it's not very well known about so let me bring you up to speed. It all started five years ago when the Defence Board recognised that there was a critical shortage of engineering skills in Defence and across the UK as a whole. In response, the board established a new 2* senior leader role called Defence Engineering Champion, which is arguably the busiest and most prestigious secondary duty in the Ministry of Defence.
In 2019, the Defence Engineering Champion role was expanded to recognise Civil Service Engineers as well and the title was renamed as the Defence Engineering Champion and Head of Profession (Engineering). Accountable to the Chief of Defence People, the role is responsible to provide leadership and oversight for all military and civilian Engineers. There are around 55,000 in Defence and this include a mix of regulars, reservists, and civil servants. The main aim is to ensure that the current and future workforce is resilient, agile, motivated, and competent to deliver Defence outputs both now and in the future.
Rear Admiral Marshall is the current Defence Engineering Champion and Head of Profession (Engineering) and is supported by a dedicated team drawn from the British Army, Royal Air Force, Royal Navy, Civil Service and private industry partners to ensure a streamlined 'whole force approach'. Together the team oversees the day to day activities and work across Defence with academia, private industry partners, professional institutes and across-Government.
With around 55,000 engineers and technicians in Defence, this small team can't do it all alone. So, Rear Admiral Marshall relies on different organisations in Defence who employ engineers. There are many, but some of course include the British Army, Royal Air Force, Royal Navy, but also organisations like Defence Digital, Defence Colleges, Defence Equipment and Support, Defence Nuclear Organisation and so on. Each organisation is represented by three levels, all playing a significant part in championing engineering.
Proud to be a Defence Engineer: Globally prepared and on the cutting edge of technology
So, what do we do?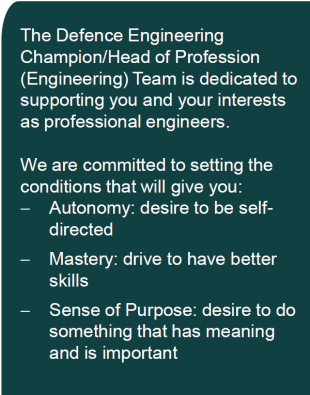 This community of Engineering Champions drive forward employment to attract, recruit, train, develop, retain, and transition our workforce. For instance, Rear Admiral Marshall's team played a significant part in the introduction of a Defence Instruction Notice for the reimbursement of Engineering Professional Body fees for Military engineers, aligning with the equivalent Civilian HR Policy.
We also publish and maintain Defence's Science, Technology, Engineering and Maths (STEM for short) Youth Engagement Strategy. This brings together over 1,000 STEM Ambassadors across Defence to partner with external organisations and inspire engineers of the future.
And that's not all. There's ongoing work to introduce a market leading STEM Undergraduate Sponsorship (DSUS) Scheme, as well as exploring options to introduce specialist trade pay, other potential benefits, and new ways of on-boarding people with existing specialists' skills so they join at higher levels than base ranks.
That's a flavour of things we're doing, but we are also looking to the future...
Rear Admiral Marshall has just issued the new Defence People Strategy for Engineering, which will look to address engineer's longer-term motivational factors. All of the Defence Engineering Champions agreed with the strategy and its agenda for change over the next five years.
Interested in a career in Defence engineering?
Join hundreds of engineers who use the new recruitment site as their one-stop-shop to see all the latest engineering jobs across the British Army, Royal Navy, Royal Air Force and MoD Civil Service. Whether specialising in Communication, Electronics, Mechanical, or System engineering, or if you have a background in Cyber, Maritime, Safety or Weapons engineering, there should be plenty of roles that spark your interest.
Find your job of a life time at the TRS Recruitment Website
---
Sign up to the GSE blog to receive an email when a new blog is published and keep up to date with the work of the GSE Profession.