GSE member Dr Helen Roberts from the Animal and Plant Health Agency explains why monitoring global disease is so important for the health of UK livestock.
I work for the Animal and Plant Health Agency (APHA) in a Defra policy team looking at animal disease risks associated with imports and trade. After completing my BSc in Zoology and PhD in Human Parasitology at Imperial College London, I racked up nearly 20 years of research and international development in various universities and Non Government Organisations in the UK and abroad before joining Defra in 2007. My team constantly monitor global diseases and how they might affect the UK; through assessing international livestock and human population movement, trade routes, trade prices and import rates, political conflicts and weather events. This evidence is then collated into disease-specific risk assessments.
Protecting UK livestock all-year-round
This summer, my team faced the first potential outbreak of bluetongue disease in eight years, after it re-emerged in Central France. Bluetongue is a particularly nasty viral disease in sheep and cattle which in extreme cases, causes swelling and cyanosis of the tongue (hence Bluetongue) and can lead to high rates of mortality. The disease can be spread by infected midges and if not controlled, it can have considerable economic impacts on the cattle industry.
As soon as we got news of the outbreak in Calais we drew up a risk assessment in February 2016. This took into account likely UK entry routes; import and windborne transmission of infected midges, and favourable weather conditions affecting the speed and extent of disease spread. This assessment was used to inform the government of current and also increasing risk throughout the year. So far we have been fortunate and bluetongue has not reached the UK, but we are always prepared in case we are not so lucky next time.
Playing the long game when it comes to protecting our reindeer
My team have also been monitoring the recent outbreak of chronic wasting disease in deer species. There has been an outbreak in wild deer in Norway this year, which led to the ban of reindeer imports this year. We're sad to forgo Rudolf this Christmas, but ensuring protection of UK native deer populations is more important.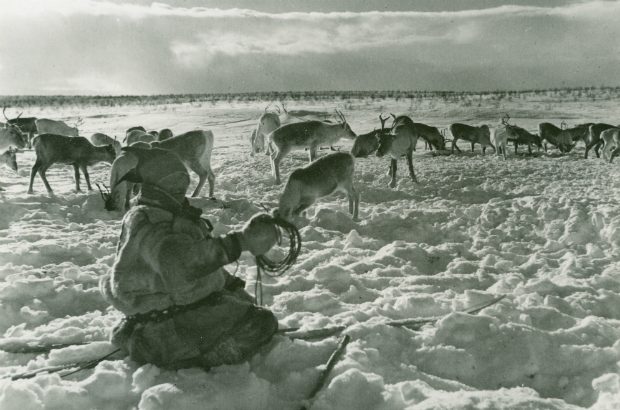 Licence: Creative Commons Attribution Elisabeth Meyer
Whatever the weather
We work very closely with a large network of laboratories including our own national reference labs (Pirbright, Weybridge, Porton Down) as well as Universities, European Reference Laboratories in Europe and OIE (World Organisation for Animal health) reference labs in third countries, which know everything there is to know about a particular disease. These labs provide information on diagnosis, available vaccines, mutations and different global strains – enabling accurate evidence-based risk assessments to be produced. Defra also works with the Met Office to understand weather patterns, which when prevailing wind directions are in a certain direction, can have huge impacts on the spread and severity of an outbreak. My role is to collate evidence to get a complete picture of UK disease risk –essential for the protection of our native species and livestock and being able to continue international trade.
We cannot predict what will happen tomorrow and what new challenges will await, but we always try to stay one step ahead so that we are prepared for what may be around the corner.
Read more about the Animal and Plant Health Agency's work here
Sign up to the GSE blog to keep up to date with the work of the GSE profession.