This blog post is a collection of vacancies, events and learning and development opportunities for people working in Government Science and Engineering.
Learning and Development Opportunity: IP for GSE training day, 8 Feb 2017
Does your role involve intellectual property (IP)? Maybe you generate IP and would like to better understand what protection there is, or perhaps you've never thought about IP and simply want to know more. The Intellectual Property Office (IPO) is the government rights-granting body for all aspects of IP - patents, trade marks, designs and copyright. This GSE-specific IP training day is open to anyone in the GSE Profession. It includes time with a patent examiner working in your area of technology, and counts for CPD. For more information, please see the event flyer and poster. Deadline: 27 Jan 2017. Contact: GSE@ipo.gov.uk.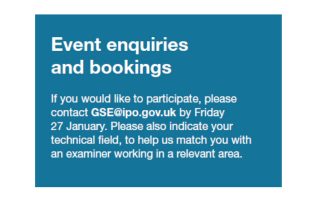 Learning and Development Opportunity: Mental health at work training
Coping with mental health conditions at any time of the year is challenging.  With 1 in 4 of us every year experiencing a mental health problem it is important that we all understand these and the effect they can have. This new mental health at work online learning provides guidance on how to help colleagues who may have a mental health condition. By becoming more knowledgeable and empathetic, you should feel more confident in starting, encouraging and promoting open conversations about the effects of mental ill health. Sign up here. Before booking learning activities please follow arrangements within your department or contact your local L&D team. Access to this training requires access to Civil Service Learning.
Vacancies: Laboratory Support Service Team Member (TG1) - CAST
CAST are recruiting four Technical Grade 1(TG1's) to join the Laboratory Support Service team (LSS) based at St Albans and Horsham.The LSS maintains over 60 different laboratories, workshops and specialist technical facilities and manages a significant equipment holding.There are no formal qualification requirements for these posts which would suit candidates interested in enabling and supporting others in delivering scientific and technical outputs. These vacancies are being advertised at stage 3 (level transfer or promotion across government to all Civil Servants).The closing date is Friday 30th December, 2016. Full details can be found on the Civil Service Jobs.
Vacancy: Research Lead and Technical Advisor, Aviation Security (SEO) - DfT
The Department of transport is recruiting an SEO scientist to join its Transport Security Research, Analysis and Development (RAD) team.  The RAD team is a small group of scientists providing expert advice on technology and techniques to counter the terrorist threat to transport based on an extensive research programme developed and managed by the team.  The post holder will be technical lead for the cargo and hold baggage research programme, using the evidence base provided by the research to provide expert technical advice to transport security policy colleagues. Training in relevant aspects of security technology and transport security will be available to the successful candidate. This is an exciting opportunity to work in security science within government.  Further details are available here. Closing date 16th Jan.
Last opportunities blog of the year
On behalf of the GSE Team, we would like to wish you all a very Merry Christmas and Happy New Year – thank you for all of your support and contributions in 2016.  We look forwards to sharing more opportunities with you in 2017!
Do you have an opportunity to share?
If you would like to publicise an opportunity in the next GSE Opportunities blog post please send a summary of no more than 100 words with contact details or a link and a closing date to: gse@go-science.gsi.gov.uk
Sign up to the GSE blog to stay up to date with the latest opportunities.