Gwyn Morris and Paul Laidler explain how Project SEARCH and Public Health England have been working together to help young people with learning difficulties and autism gain meaningful employment.
The benefits of work
Although many of us will have bad days at work; the journey to and from work can be stressful and we can face relentless work pressure, we all benefit from having and being in work, not least by the pay deposited into our accounts at the end of each month.
There are many people who would love to have a job, including the pressures and all the benefits that come from being employed, but are unable to gain employment.
Public Health England (PHE) is the first Civil Service organisation to partner with Project SEARCH, a scheme which aims to boost the employability of young people with learning disabilities and autism.
Did you know?
Only around 6-9% of young people aged 18-24 with learning disabilities and/or autism work in a paid job for at least 16 hours a week.
Those with learning disabilities, who aren't in work, are more likely to experience poorer self-rated health, psychological distress, arthritis, diabetes or epilepsy.
The programme's primary objective is to secure competitive employment for young people with learning difficulties. The cornerstone of Project SEARCH is total immersion in a large business.
Each day, students report to the host business, learn employability skills in the classroom and job skills while participating in 3 rotations, each lasting ten weeks. Students participate in monthly progress meetings to define their career goals and plan necessary steps to achieve them.
An opportunity for PHE
The PHE National Infection Service at Colindale in North London felt they could contribute something tangible and quickly saw the value of Project SEARCH.
At PHE, the ten week rotations included a variety of different areas, including laboratory work in microbiology, media production, waste management, in administration, as well as supporting conferences and events.
10 young people arrived at a place where the work ethic and culture is very different to college rules and turning up on time is important rather than ' a nice thing if you can try'.  All students followed the same induction route as other Civil Servants in PHE and they took this on with great enthusiasm. It was a joy to behold the enthusiastic smiles when a new task was successfully completed.
There was an initial sense of apprehension from some PHE colleagues but this evaporated quickly. The students mixed well with other workers, inevitably barriers have come down and stereotypes challenged. This was a positive experience for the students as well as colleagues they work alongside. For many PHE staff, this has been their first experience of mentoring and coaching.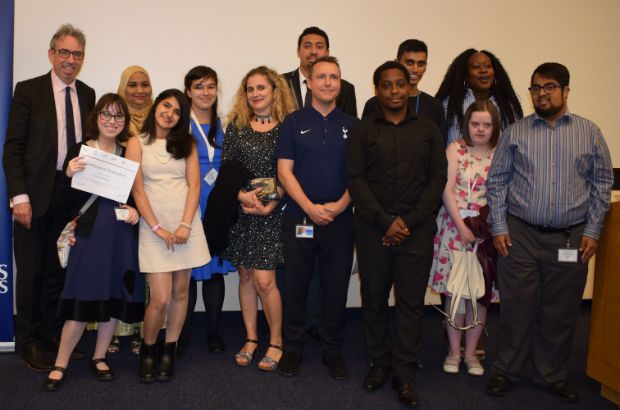 Continued support
The third work rotation has come to an end following an emphasis on the students working with job coaches to help them find jobs. PHE hopes that some students will find a job that enables them to stay with us.
There is strong evidence that the time spent at Colindale will have dramatically improved the job prospects of students. In other similar projects, the percentages gaining employment have risen to around 60-70%.
The first cohort graduated on July 12th and as Duncan Selbie, Chief Executive at PHE put it, we "could not be more proud of them and our staff".
We now have two students in full time work. The new cohort has been selected and 12 new students will start in September 2017.
If you want to find out more about Project SEARCH then please email projectsearch@phe.gov.uk
---
Keep up to date with the GSE profession's work by signing up for email alerts.