It's December 2019, Christmas approaching, bright dancing lights decorating houses and streets, and infinite celebrations! Last December, however, was not an ordinary one for me -  I was hit by the biggest and worst surprise of my life. I found a big lump (how did I miss it before?!!) on my left breast and it was confirmed to be malignant. Christmas Eve was spent scanning the right breast, and yep, there was cancer there too. And that was the beginning of my journey to get rid of the cancer and have treatment to try and prevent it coming back.
Once the initial shock was over, my logical mind started reading about clinical trials and making plans – after all I am a scientist! I decided to not keep it a secret, as hoped to reduce the stigma around cancer, which is still too big today. That was a very personal choice, and it was not easy to tell my work colleagues I can assure you, but I am glad I did. I was overwhelmed by everyone's kindness and genuine offers of support, which became a reality when I decided to work while having chemotherapy. My work gave me purpose, and made me get up from bed! Cancer did not stop my career either, of course it had crossed my mind! Instead, I was actively supported by my team, manager, and senior leadership too. I was very humbled and honoured to be offered a management opportunity, which I had been working hard to get prior to cancer diagnosis, and was embraced and supported by them throughout my chemotherapy journey. I can honestly say that I have not been alone in my journey, which can be a lonely one.  I leave you with a couple of photos – the scientist me and with the team, after all it was Christmas!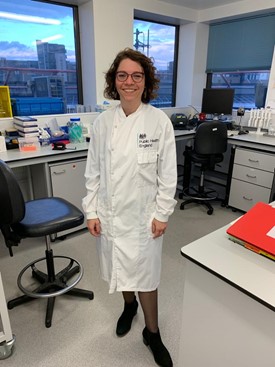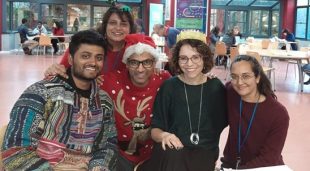 I would like to thank Juliana. The power in sharing the story of how she was diagnosed with breast cancer and the following journey over months, is inspirational for those that will be diagnosed in the future, those with family members going through the same, and for those of us supporting team members at work.  It is crucial that we listen to and support colleagues working with cancer and help them communicate what is right for them, importantly at time that is right for them. It is heart-warming to read that working life can continue to flourish for people with cancer within the Government Science and Engineering Profession. Together we will achieve more.  Do what you can, listen to, learn from and support those around you. 
Vicki Chalker Head of Science and Engineering Profession, Public Health England and Chair of the GSE Diversity and Inclusion Action Group
---
Sign up to the GSE blog to receive an email when a new blog is published and keep up to date with the work of the GSE profession.