This blog post is a collection of vacancies, events and learning and development opportunities for people working in Government Science and Engineering.
Find out who is your departmental Head of Science and Engineering Profession (HoSEP)!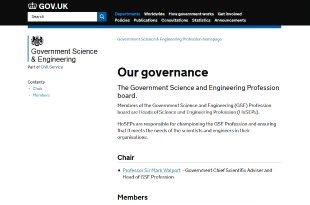 The GSE Team have recently updated the GSE gov.uk page to include information about the GSE Profession Board which consists of HoSEPs from major science and engineering user organisations across government. We encourage you to take this opportunity to find out more about them!
Postdoctoral Research Fellowships: UK Intelligence Community
The Government Office for Science offers UK Intelligence Community (IC) Postdoctoral Research Fellowships to outstanding early career science or engineering researchers. These are designed to promote unclassified basic research in areas of interest to the intelligence, security and defence community. Members of the IC have identified research topics and Postdocs will work locally with University Research Advisors to develop and submit research proposals that align with the topics. The UK IC Postdoctoral Research Fellowship programme awards fellowships to researchers for 2 years up to £100,000 per year. The current call closes on 10 April 2017 and will run annually.
British Society for Immunology Events
The British Society for Immunology (BSI) has a wide variety of upcoming public events run by their Regional and Affinity Groups, taking place across the UK and most are free to enter.  You can find full details of all the events in the events section of the BSI website. If you have any queries, please contact meetings@immunology.org.
Vacancy: Industrial Sector Lead, Earth Observations (SEO) - UK Space Agency
This is an exciting opportunity to join the UK Space Agency Earth Observation team just as the UK is taking the leading role in ESA's EO programmes. You will have responsibilities within the Agency, with international partners and with UK industry and academia to shape the earth observation technology and industrial strategy. The job is advertised on Civil Service Jobs, reference no. 1531791. Closing date 24th March 2017. For more information, contact beth.greenaway@ukspaceagency.bis.gsi.gov.uk
Secondment Opportunities: The Alan Turing Institute
The Alan Turing Institute is the national centre for data science, established in 2015 with the mission to make great leaps in transformational data science research that will have positive real-world impacts.
1. Policy Officer: You will support the policy advice function of the Alan Turing Institute and coordinate aspects of the work of the newly-established Policy Innovation Unit (PIU). Closing date 5 April 2017. Find out more information.
2. Research Assistant in Data Ethics: You will support research activities in data ethics developed at the Turing, not only to ensure the development of ethically-sound data science, but also to raise awareness of its importance and foster its appreciation within the Institute, its Joint-Venture University members, its Partners and the public. Closing date 5 April 2017. Find out more information.
---
Do you have an opportunity to share?
If you would like to publicise an opportunity in the next GSE Opportunities blog post please send a summary of no more than 100 words with contact details or a link and a closing date to: gse@go-science.gsi.gov.uk