Dr Shabana Haque, Head of the GSE Team, shines the spotlight on the lives of two exceptional women who were at the forefront of the women's suffrage campaign and pioneers of science and medicine.
This year marks the centenary of the 1918 Representation of the People Act, which gave some women over the age of 30 the right to vote.  Two weeks ago, we saw the symbolic unveiling of the statue of Millicent Fawcett, a leading suffragist and campaigner for equal rights for women, in Parliament Square.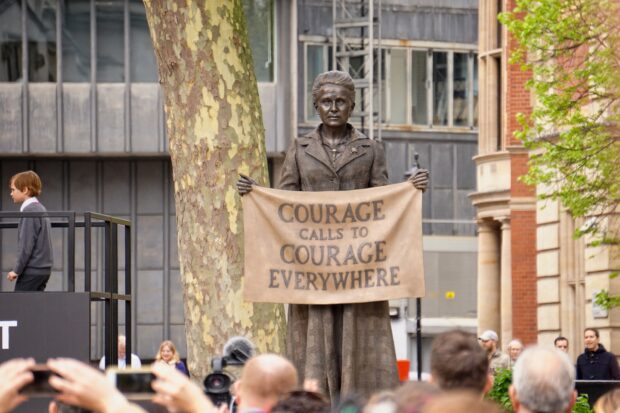 This national event, and others planned throughout the year, gives us all the chance to remember the lives of the many remarkable women involved in the struggle.  And for me, it has sparked a personal interest in uncovering those hidden stories of courageous women who made a big contribution to both suffrage and science.
Lydia Becker 1827-1890
The achievements of Lydia Becker are pretty impressive by anyone's standards.  There are parts of her life that are much more well known than others.  You might be aware, for example, that she was a leading member of the women's suffrage movement.  She went on to found the Women's Suffrage Journal, the most popular publication relating to women's suffrage in 19th-century Britain.
But did you know that she was an accomplished biologist, astronomer and botanist who published Botany for Novices in 1864 and was awarded a Gold Medal in the 1865 Royal Horticultural Society Competition for her outstanding collection of dried plants?  She was an intelligent and practical woman, with a strong belief that women and men were intellectually equal and should be afforded the same opportunities — a deeply unpopular idea at the time.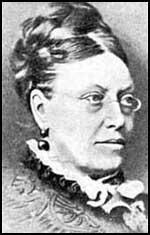 Hidden in her rather unassuming story is a rather casual reference to the fact she was an occasional correspondent of Charles Darwin. She provided Darwin with specimens of plants indigenous to her home town, Manchester, and sent detailed observations for Darwin's work on plant dimorphism.  In return, Darwin provided Becker with material for an education initiative at her local women's scientific organisation, the Manchester Ladies' Literary Society, and gave her advice on where best to publish her articles.  She was one of a number of 19th-century women who contributed, often routinely, to Darwin's scientific work.
Elizabeth Garrett-Anderson (1836-1917)
Elizabeth, a pioneering physician and political campaigner, was the older sister of Millicent Fawcett.  She was the first woman to openly qualify in Britain as a doctor, overcoming stiff opposition to gain her medical qualifications at a time when women were not admitted into the profession. She was also the first woman to be elected to a school board in Britain and the first female mayor and magistrate in Britain.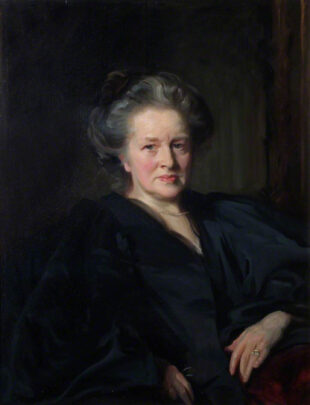 Elizabeth's story is captivating, one filled with rich examples of personal strength, drive and determination in the face of opposition.  She took it upon herself to gain a medical education, securing a position as a nurse at Middlesex Hospital.  Male students put pressure on the hospital to refuse her admission on the grounds of her sex, but she was eventually allowed into the dissecting room and chemistry lectures and went on to achieve an honours certificate in chemistry and material media.
She was repeatedly refused entry to several medical schools across the UK on gender grounds, but she kept going, and was eventually granted entry to the Society of Apothecaries on a technicality because their charter could not legally exclude anyone on account of their gender.  In 1865, she passed her exams, with the highest marks of her year, and attained a license to practise medicine.
Her life's work paved the way for women's medical education in Britain. A real trailblazer, her courage and dedication is an inspiration to us all.
Share your hidden stories
These are just two inspiring stories that I have stumbled upon while trawling the archives, to satisfy my own personal curiosity and enrich my own understanding of the suffragette and suffragist campaigns.  There must be more out there.  If you have a hidden story of science and engineering that you would like to share, please email GSE@go-science.gsi.gov.uk.
You can read more stories of unsung heroes, including women, the non-elite and underrepresented groups, in the GSE Story: The Story of Scientists and Engineers in Government. Their tireless work behind the scenes, often in the face of adversity, contributed to "Eureka" moments that are now attributed to others.
And you can read more about the work of women in the Civil Service on the 100 years, 100 women blog.
Join in with the planned centenary activities or host your own event at the "Celebrating Votes for Women" website.
---
Sign up to the GSE blog to receive an email when a new blog is published and keep up to date with the work of the GSE profession.