Young people face many critical decision points: GCSEs, A-levels, further education or career choices. Their experiences with science in the time preceding these choices can be critical. Think about your own journey into the Government Science and Engineering profession, and the experiences you had – it was probably the more interactive and fun activities that you still remember and made you passionate about a science career.
Whilst I always knew I wanted to pursue a degree in chemistry and a career in STEM, this is not the case for everyone. Many young people don't know exactly what they want to do after they leave school and so it is important for us to engage with them as much as possible in inventive and inclusive ways from an early age. If we want to fill the STEM skills gap we need to encourage young people from all backgrounds to develop an early interest in scientific subjects and the opportunities studying them will create.
British Science Week
One way this can be achieved is by encouraging participation in British Science Week which takes place in March each year, with our partner the British Science Association who co-ordinate activities and events for both children and adults. The week gives all of us the opportunity to inspire the next generation of innovators, leaders and entrepreneurs. In addition, The CREST Awards, which run year-round offers young people the opportunity to take on STEM project work, giving them a real taste of life as a researcher. Through this they learn to solve the problems of today and gain a qualification, highly valued by universities and often very relevant to STEM internships. The Department for Business, Energy and Industrial Strategy (BEIS) helps fund grant programmes to ensure that a wide range of schools and communities can get involved with British Science Week and the CREST Awards.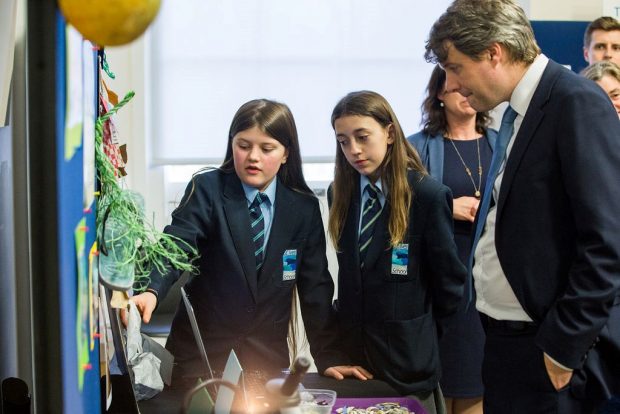 Industrial Strategy Science Fair
I was part of the group that helped organise the Industrial Strategy Science Fair, where we launched the Youth Industrial Strategy competition. We achieved this with the help of Science Minister Chris Skidmore, Government Chief Scientific Adviser Sir Patrick Vallance, guests from industry and members of the STEM Inspiration Space. Most important of all were the teams of young people who showcased their impressive CREST award projects.
I was particularly impressed with the project teams that created an underwater Roomba designed to clean waste plastic, plans for a human colony on Mars and a robot that could make construction workers' lives a whole lot easier. It was great talking to such bright young people, who had such a keen vision of how science and engineering can help create a better future.
If you feel like you missed out, not to worry. The UK Science Festival Network helps co-ordinate events across the country, showcasing the best of its local industries and innovation.
How can you help?
One impactful way you can encourage young people to think about science is by volunteering with the STEM Ambassador programme. As an ambassador you will be invited by schools to talk about your work and experiences and enthuse pupils through STEM-related activities. You can volunteer on the STEM Ambassador programme website. Alternatively, the GSE profession will occasionally run STEM Ambassador training days. To find out when these are running check out the GSE opportunities blogs regularly.
So what can you do to help inspire the next generation? Here are some examples:
ask your local school if they do CREST Awards
volunteer to set up a STEM club to help run projects
mentor a winner of the Youth Industrial Strategy Competition
volunteer at your local science fair
start thinking about how you and your team can get involved with British science week 6-15th March 2020
If you have additional ideas and would like to get involved, please get in touch at: michael.rignall@beis.gov.uk
---
Sign up to the GSE blog to receive an email when a new blog is published and keep up to date with the work of the GSE profession.