New starter Oliver Summers kicks off a series of posts that will introduce the GSE Team and what we have planned for the future.
Who am I?
Coming straight from a Masters in Science & Technology Policy and 6 years part time experience in retail, life as a Civil Servant has come as a bit of a culture shock. Especially as a day after my birthday, I started my internship in the GSE Team in GO-Science and was thrown into the whirlwind that was the launch of the new GSE Strategy. An event attended by Sir Jeremy Heywood and hosted by Sir Mark Walport, the Head of the GSE profession, and laid down an ambitious 5 year plan to transform the GSE profession.
Who are the GSE Team?
The GSE profession team is a small team which sits within GO-Science and we manage the GSE profession on behalf of Sir Mark Walport. We are there to make sure that government has access to the best expertise and advice to inform decision making. We do this by supporting the 10,000 Civil Servants that identify with the GSE profession, with their careers and continuing professional development.
This is a massive responsibility and the pressure is on to deliver. So, how on earth are we going to do this? Well, we are a small team and so we certainly can't do this on our own. So, over the next weeks and months, we will be working with Sir Mark Walport and our departmental Heads of Science and Engineering Profession (HoSEP) to make this strategy happen. We will also be looking for volunteers across the GSE profession to help us with specific tasks. After all, this strategy wasn't written for the GSE team, it was published in response to what government scientists and engineers told us they wanted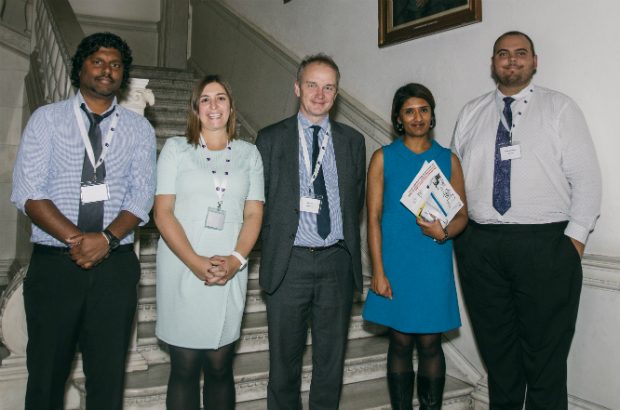 What's next?
We've already got some exciting developments in the pipeline, such as the 'GSE Map' that I'm working on as a tool to help people identify expertise and to encourage networking and collaboration across the GSE community. We will be forging ahead with our work plan in the 10 workstreams identified in the strategy. Priorities include a review of our Professional Skills Framework, improving HoSEP visibility, and working with learned societies to promote the benefits of chartership and accreditation.
I'm also tasked with co-ordinating the GSE Champions community. (Now for the sales pitch) As a GSE Champion you can promote the role and impact of science and engineering in government, by reaching out across your own department, the Civil Service and the public. It's a great opportunity to develop your cross-departmental networks, and be a more effective government scientist and engineer by improving your knowledge sharing. Plus it is a great way to show commitment to your profession. Find out more about the role on our GSE Champion page.
You can become a Champion once you've registered with the GSE profession. Then please email GSE@go-science.gsi.gov.uk to sign up as a Champion.
Sign up to the GSE blog to keep up to date with the work of the GSE profession.