Read and share our new strategy for a proud, high profile and effective Government Science and Engineering profession.
The Government Science and Engineering (GSE) profession applies scientific methodology, engineering principles, systems thinking and knowledge to help secure the resilience, wellbeing, health and security of the UK.
We work closely with other government professions, in a range of specialist, analytical, operational and policy roles, to provide the highest quality science, engineering and technology solutions. We ensure joined-up evidence underpins the decisions of ministers and senior officials across all government departments. And we use our science and engineering backgrounds to act as intelligent customers and suppliers, and to enable better conversations with external technical communities.
As the Government's Chief Scientific Adviser, I lead the Government Office for Science and am proud to also lead this group of over 10,000 civil servants who identify as part of the GSE profession.
I do this with support from the GSE Profession Board and the GSE team. The former is a group of senior science, engineering and technology leaders from across government, who meet quarterly to discuss issues of relevance to the profession. The GSE team sits within the Government Office for Science and plays an important co-ordination role for the GSE profession.
A new strategy for the profession
Over the summer, the GSE team and I ran a series of 14 workshops with government scientists, engineers and technologists across the UK, to find the best ideas for how we can build on our past successes and improve the way we serve the public interest.
Many of these ideas are incorporated into this recently published GSE strategy.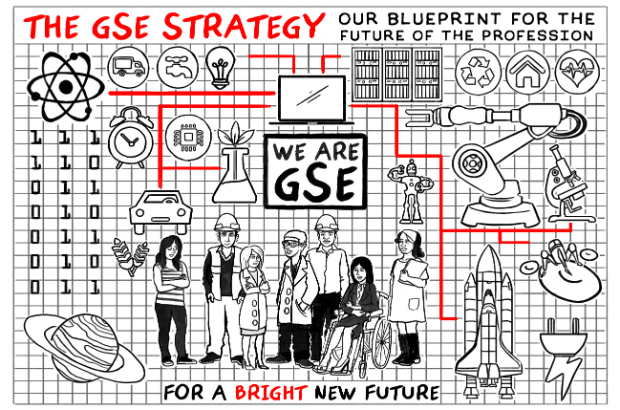 This publication is a blueprint for the future of the GSE profession. It describes how we can work to become a proud, high profile and effective profession that attracts fresh talent and is embedded at the heart of government decision making.
The strategy outlines ten key areas for us to focus on over the next five years. These work-streams seek to ensure that GSE members can access satisfying career paths and continuing professional development opportunities regardless of their role or grade.
The areas covered are:
Raising the Profile & Building Pride
Reward & Recognition
Science & Policy Engagement
Capability & Skills
Talent Management & Leadership
Secondment & Interchange
Diversity & Inclusion
Mentoring
Collaborating & Networking
GSE Profession Outreach
I am particularly glad to highlight two aspects of the strategy.
The first is its focus on supporting GSE members to achieve professional accreditation, such as chartered status. I anticipate that this will help to ensure that GSE has the right skills and expertise, and that individuals are recognised for their contributions.
As importantly, the strategy outlines our ambition to take a lead in the area of diversity and inclusion, acting as an exemplar of the Civil Service Talent Action Plan. We have set out an aspiration for our membership to reflect society in terms of age, ethnicity, gender, sexual-orientation, disability and socio-economic background.
Read, share and sign up
This document signals the start of an exciting period of evolution for the GSE profession.
There will be plenty of opportunities over the next few months for you to get involved in activities as part of the strategy's implementation.
Whether you conduct lab-based research, manage technical projects, act as an intelligent customer or supplier, work in policy or work as a generalist, I strongly encourage you to read and share this document with your colleagues.
To show your support for the GSE profession, you can also read this blogpost that explains how you can become a member of GSE and a GSE Champion.
Sign up for email updates, to keep up to date with the work of the GSE profession.