The GSE team share successes from 2016 and upcoming opportunities to get involved.
A Successful Year
2016 was an eventful and exciting year for the profession and the GSE team.
Changing the Way We Communicate
Another first was launching this blog in July 2016; our new way of communicating with our members, the wider science and engineering community and the public.
Below, you can see just how popular the GSE blog has been since it went live.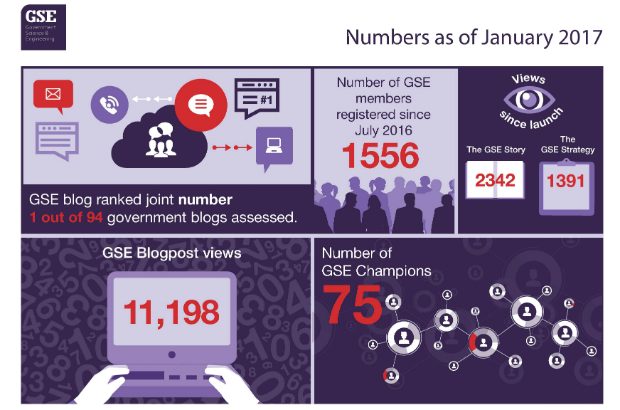 It has also been ranked as joint number 1 out of 94 government blogs assessed, a fact we are very proud of and a testament to the quality of the blogs that you have been sharing with us.
Numbers on our register and GSE Champions are both looking healthy. And if you haven't already registered, then just follow this link.
These achievements wouldn't have been possible without the support and enthusiasm of GSE members.  Thank you for making 2016 such a successful year!
Our commitment to you
So as you can see, we have set the bar high and there's not much time to bask in our glory. There is a lot still to do in 2017.  Our priority is to ensure that the profession meets your needs.  We will be focussing on the short-term goals in the GSE Strategy, which will need continued strategic leadership from our Head of Profession and the GSE Profession Board, supported by the actions of Champions and members.
Below you can see the current statistic for the GSE profession, compared to the Civil Service as a whole.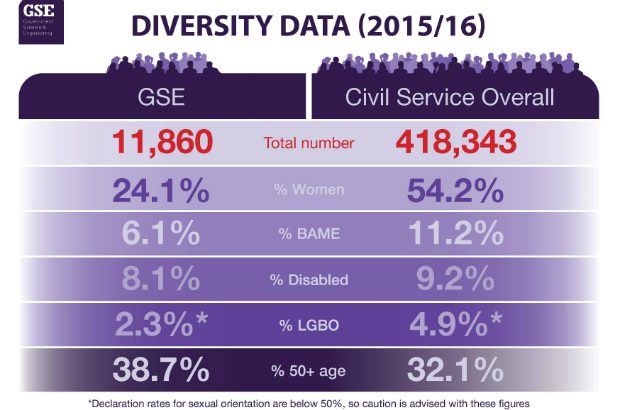 We want to be a diverse and inclusive profession, with an aspiration to reflect society in terms of age, ethnicity, gender, sexual orientation, disability and socio-economic background.  You can see that there is still some way to go.  But, by publishing these statistics we are committing to redressing the balance and closing these gaps.
Get involved
During 2017 you will have the chance to get involved in the implementation of the GSE Strategy, to support the goals of the profession, so keep a look out on the blog.
And we are not wasting any time.  In the next few weeks we will be launching a competition.   We want members to help us design a new digital networking tool to foster collaboration across the GSE community.   Other opportunities include helping us to pilot a mentoring tool and the chance for you to shape a new skills framework for the profession.
So, here's to an equally successful 2017!
---
Sign up to the GSE blog to keep up to date with the work of the GSE profession.