This week is British Science Week.  NPL's Outreach Manager and GSE Member Andrew Hanson, tells us how encouraging science participation is not just his day job but a full-time occupation.
It's British Science week… fortnight… month, and I am busy with talks at schools, hydrogen powered cars, and the Big Bang Fair 2017 in Birmingham!
I'm Andrew Hanson, two decades an optical metrology scientist and one decade a sort of 'rock band manager' of outreach at the National Physical Laboratory. It's my job to funnel the enthusiasm of scientists who are bursting to tell the world about their work, and let it loose on diverse audiences.
Many of these scientists want to 'put something back', some are born teachers, others want to engender an enthusiasm for STEM subjects in the next generation and others just need to share the love they have for their subject.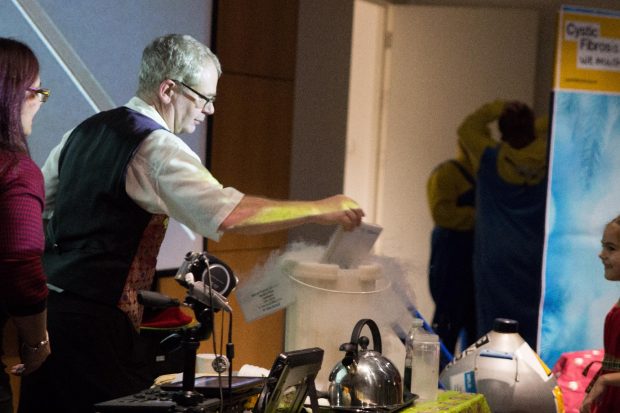 My 'team' comprises myself with a full time assistant and 'guest' help from around 150 individual staff members each year. We undertake an enormous range of activities that includes talks, mentorships, exhibition stands, awards, training materials, lab tours, kit loans, challenges and publications. In 10 years we have 'met' over a third of a million people (actually 339523 – each one is special to me) through about 2000 encounters.
Getting everyone to play with dolls
Looking back, many high points have included discussing the re-definition of the kilogram in a yurt at a Welsh music festival in the pouring rain, being (correctly) heckled by my six year old daughter at a science show, recruiting enthusiastic apprentices and watching people's faces whenever we show them our sensory illusion demonstrations (e.g. the dolls of confusion).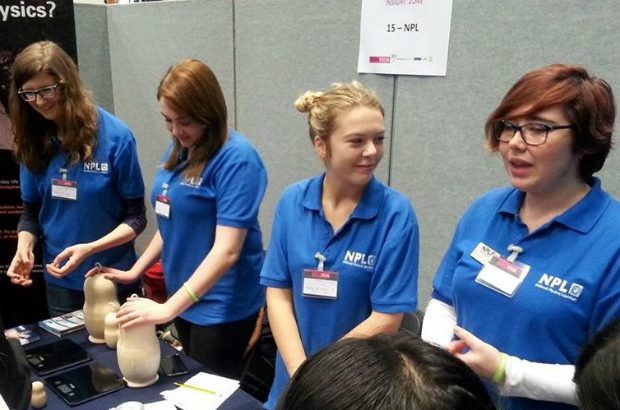 Tricks of the trade
The main pieces of advice I would give to those want to be effective with this sort of work are:
Ensure that your target audiences actually want what you plan to do.
Engage and support the passion of others.
Collaborate with other organisations to spread reach and effort (The GSE Team can help you do this!).
Finally spot a few good winners (brands/areas/activities) to flog mercilessly.
Inspiring the next generation
Looking forwards, I feel deeply that if we are to enable the nation to progress scientifically and innovatively, we need to promote a greater understanding of the real value of science to society (coldly called public engagement) and to actively nurture and recruit those who can progress it (outreach). Both these strands are at the bedrock of the work NPL does and we look forward to working with the rest of the GSE profession to deliver on the commitment in the GSE Strategy to increase and encourage outreach across government.
Sorry, got to go now, I need to pack some super conductors, chrysanthemums, the ingredients for ice cream, and 25 litres of liquid nitrogen into a van for a school show. It's going to be a long week, but a fun one, I hope to see you out there one day.
If you would like to volunteer some of your time enthusing the next generation of would-be scientists and engineers, then you can sign up to be a GSE Champion.
---
Sign up to the GSE blog to keep up to date with the work of the GSE profession.
Join the GSE profession; we welcome all civil, crown and public servants with a background or interest in science, engineering and technology.