Throughout the year, the GSE Team run special events at regional locations across the country. The events are a chance for GSE members to meet each other and learn about some ground-breaking science at a world-leading GSE institution.
A couple of days before the 'Beast from the East' hit South Wales, 70 GSE members from Wales and South-West England got together for a regional event organised and hosted by the Intellectual Property Office (IPO) in Newport, with a focus on Big Data.
What's so big about data?
There is undoubtedly a buzz around Big Data at the moment. Nigel Swier from the Office for National Statistics (ONS) gave a great explanation to the non-data scientists in the room about exactly what Big Data is, and how some government departments are making best use of its potential.
He gave a fascinating rundown of how the ONS has used the "large volume, velocity and variety information assets" of Big Data in geolocated tweets to show the mobility of students around the country.
Big Data's potential in government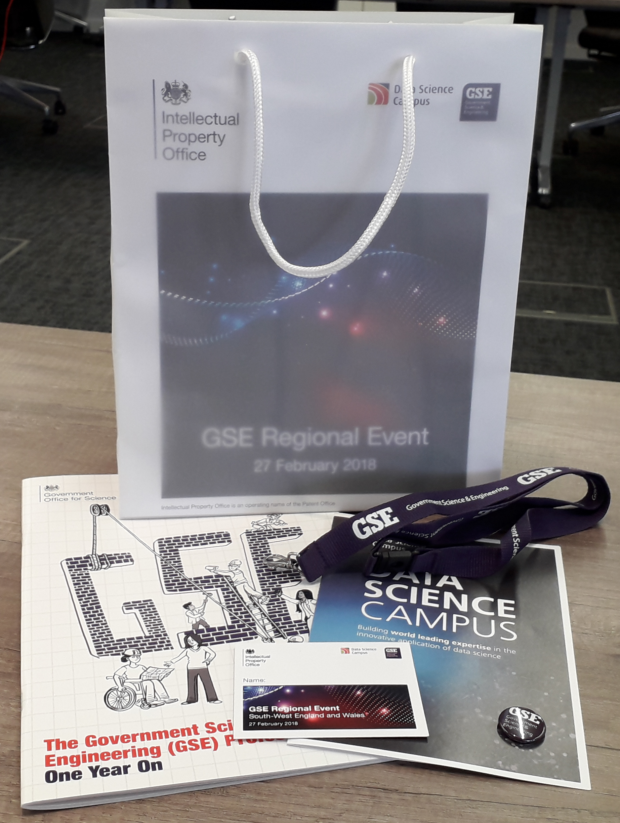 The problem with Big Data is that it's, well, big. Dealing with exponential growth in data is a huge challenge, from weather forecasts to patent analytics to shipping patterns. Charles Ewen, Chief Information Officer and Director of Technology at the Met Office, discussed how they are handling the copious amount of data they generate, and Chris Harrison and Peter Evans from the IPO talked about how they are getting to grips with the data contained in over 100,000,000 published patents worldwide.
Ioannis Tsalamanis and Chris Bonham from the Data Science Campus (DSC) explained how they have been using Big Data, together with the Department for International Trade and the Maritime Coastguard Agency, to understand how UK port operations work and better analyse shipping movements.
Finding out what GSE members in the region do
Being a scientist or engineer in government is a hugely varied field. From patent examiners to policy makers to senior civil servants, it was inspiring to hear from panel members with such interesting career paths within the civil service, and to hear how the skills they have acquired as scientists and engineers are well suited to working in policy roles.  It was clear, too, that mentoring had had really positive impacts on their careers.
We heard about the great work carried out over the last 12 months guided by the GSE Strategy, and discussed in groups which Strategy areas should be focussed on this year. The take-home was that collaboration between departments is crucial, and we need to put more effort into discovering the talent and knowledge of our fellow GSE colleagues. To that end, we look forward to similar events for the Wales and South-West region in the not too distant future!
Coming soon: look out for some of the Big Data talks on the GSE YouTube channel.
Future GSE regional events like this one will be advertised on this blog, so keep an eye out! A special networking event for GSE Champions will be taking place at the National Physical Laboratory on 23 May — find out more about becoming a GSE Champion here.